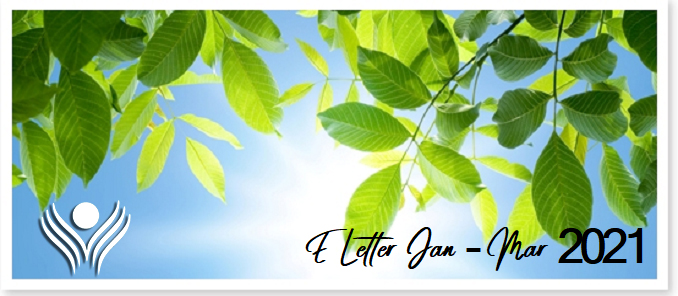 RESEARCH: Expanding Knowledge of Philanthropy
Corporate giving has increased to PKR 16.45bn
| | |
| --- | --- |
| | PCP has completed its 16th report on "Corporate Philanthropy in Pakistan: A Potential Resource for Social Development". The report reveals that the corporate sector in Pakistan including the Public Listed Companies, Public Unlisted Companies, and Private Limited Companies have contribution PKR 12.77 billion in the year 2018 which has increased to PKR 16.45 billion for 2019. These findings uphold the fact that Pakistan's business sector continues to be a great potential resource to support various social causes in the country. |
---
How Pakistani youth is contribution towards SDGs?
| | |
| --- | --- |
| | The recently completed report on "Youth Philanthropy in Pakistan: Contribution Towards SDGs" features case studies of youth philanthropic initiatives in Pakistan such as Rizq, Sehat Kahani, WonderTree, Goats for Water (UpTrade) and TechJuice amongst many others. Such philanthropic initiatives, in some direct or indirect way contribute towards the attainment of the SDGs, with a special focus on mitigating hunger and poverty, providing health services to the poor, improving environmental conditions, etc. The youth philanthropic initiatives chosen to be highlighted as case studies have been included on basis of their innovation, sustainability and impact. To access the complete report, visit: https://bit.ly/3poa45H |
---
Occasional Paper Series
This year PCP- Research Unit has taken the initiative to introduce the Occasional Paper series covering various research topics related to philanthropy in Pakistan. These research papers are available publicly and accessible online on PCP website.
The first completed paper is on "Monetary Giving Patterns of Pakistani Diaspora in the UK" which examines the effect of socio-economic and demographic characteristics of Pakistani Diaspora in the UK on monetary giving patterns. The study presents a bivariate and multivariate analysis of the important determinants of diaspora monetary giving to charitable causes both in Pakistan and in the UK. To access the complete paper, visit: https://bit.ly/30AwHK1

S

econd Occasional Paper on "Socio-economic and Demographic Factors Affecting Individual Monetary Giving in Pakistan", examines the relationship between selected socio economic and demographic factors and household monetary giving across three provinces of Pakistan, -Punjab, Balochistan, & KP using data from PCP conducted sampled survey of about 10,000 households.

To access the complete occasional paper, visit

:

https://bit.ly/3rQ8Faa
---
PCP's Articles in the Newspapers
| | |
| --- | --- |
| | |
| Philanthropy is indeed a powerful tool for boosting social progress, provided the donors focus to direct it towards social causes. A newspaper article entitled "Call for a new normal: Catalytic Philanthropy" was published with the main thought to highlight that for a global pandemic and need for global solutions. John Gardner's words, Wealth is not new. Neither is charity, best explain the vision of PCP aimed at using private wealth imaginatively, constructively, and systematically to attack the fundamental problem of mankind. Full article can be accessed at: https://bit.ly/2Kxbv3k | |
| | |
| | As the need of innovative solution to combat the severity of the Corona pandemic is crucial, PCP's newspaper article entitled "Empowering the Non-profit Sector", attempts to highlight the possible ways for government and NPO sector to collectively strive to bring out society from economic hardships caused by Covid-19. Full Article is accessible: https://www.dawn.com/news/1610032 |
| | |
PCP Talks - A Webinar Series
---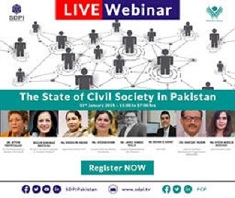 PCP started its webinar series in the beginning of this year and held three webinars in collaboration with different partners. In January, 2021, PCP and Sustainable Development Policy Institute (SDPI) hosted an online panel discussion on the "State of Civil Society in Pakistan". The panel discussed various challenges CSOs are facing presently and the ways to resolve them. The speakers included Dr. Attiya Inayatullah, Begum Shahnaz Wazir Ali, Ms. Shazia Amjad, Ms. Ayesha Khan, Mr. Javed Ahmed Malik, Dr. Roomi S. Hayat, Dr. Shafqat Munir, and Ms. Syeda Adeela Bokhari. Recording of the webinar can be watched at: https://bit.ly/2QVacOl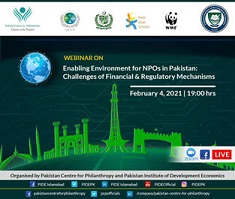 In February, 2021, PCP in collaboration with Pakistan Institute of Development Economics (PIDE) conducted another webinar on the "Enabling Environment for NPOs in Pakistan", with special focus on the challenges NPOs face in Financial and Regulatory Mechanisms. A group of well reputed panelists from both government and non-government sector participated in the discussion and shared their thoughts on pertinent issues of the NPOs in Pakistan. The panel included Dr. Nadeem ul Haq, Ms. Shazia Amjad, Ms. Syeda Adeela Bokhari, Mr. Mohammad Naeem Khan, Mr. Hammad Naqi Khan, and Ms. Sabira Qureshi who discussed the challenges in creating an enabling environment for NPOs in Pakistan and the measures to be taken to redress the prevailing conditions. Recording of the webinar can be watched at: https://bit.ly/2PNVuIG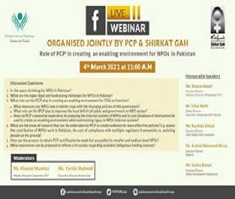 The third webinar on "Role of PCP in Creating an Enabling Environment for NPOs in Pakistan" was held in March 2021 in collaboration with Shirkat Gah, Lahore. The speakers included Ms. Shazia Amjad, Ms. Khawar Mumtaz, Mr. Irfan Mufti, Ms. Rashida Dohad, Mr. Arshid Mehmood Mirza, Ms. Saima Batool, and Ms. Farida Shaheed. The discussion was quite revealing in terms of highlighting how PCP could facilitate resolving NPOs operational and regulatory mechanisms. Recording of the webinar can be watched at: https://bit.ly/3utUc4H
Philanthropy Course
PCP has initiated to introduce a course on Philanthropy in the Fall term, 2021 at SZABIST Islamabad Campus to create awareness about the underlying dynamics of philanthropy among young students. This is the first-ever initiative by PCP which will be replicated later in other universities, too
During January to March this year, PCP which is authorised by the Federal Board of Revenue (FBR) to certify non-profits in Pakistan, has approved certification of 66 non-profit organisations whereas 31 applications were deferred/ rejected for failing to fulfil the rudimentary requirements.
Certification panels held during Jan-Mar 2021
Sr #.
Date
No. of cases presented
No. of cases approved
1
26th January
23
14
2
23rd February
25
17
3
10th March
25
20
4
24th March
24
15
Total
97
66
PCP's NPO Certification is entirely a voluntary process involving an objective evaluation against predetermined standards in areas of governance systems, regulatory and policy frameworks, taxation, financial management and transparent program delivery. The whole process of certification does not compromise on quality of evaluation due to which NACTA also places PCP certified organisations in the category of safe charities.
Donors & Grants' Management
PCP in partnership with G2A facilitated:
1.
PepsiCo Foundation's grant of US$ 678,763 in October 2019 to support Amal Academy's career-prep fellowship program has been successfully concluded. Under this, Amal Academy ran three semesters of Fellows hailing from 120+ different universities. The next grant of US$ 600,000 has been facilitated in January 2021 for 49 new Career-Prep Fellowships benefiting 2100+ graduates across Pakistan.
2.
Grants of US$150,000 for the Covid19 relief projects of 2 of PCP Certified NPOs under PepsiCo Foundation's "Millions of Meals" campaign. With this amount (i) AGAHE distributed one-month ration packages to 4318 households in 17 districts of Punjab; and (ii) Mehnaz Fatima Foundation distributed one-month ration packages to 1000 households in 5 districts of GB.
3.
Grant of US$ 50,000 from S&P Global Foundation to Shaukat Khanum Memorial Cancer Hospital and Research Centre (SKMCH&RC. This is to support SKMCH&RC in arranging PPEs for their frontline health workers who're bearing the brunt of the Covid19 pandemic.
---
Partnerships Development
With the support of European Union in Pakistan, PCP being consortium partner of Aga Khan Foundation (AKF) UK and Aga Khan Rural Support Program (AKRSP) aims to build CSOs' capacity to mobilise and engage youth, and improve access to economic opportunities for marginalized groups. More details: https://tinyurl.com/24s8rrpt
---
In March this year, PCP went into discussion with American Pakistan Foundation (APF), which was founded in 2009 by Pakistani American community members who wanted to create a platform for giving back to Pakistan and to the United States. PCP went into partnership with APF under which PCP is to host couple of U.S. based students/ professionals as a fellow for ten weeks (June 2021 onwards) who will seek experience in working in philanthropic sector of Pakistan. Here is the quick link to the program page: https://www.americanpakistan.org/apf-virtual-fellows. Also, PCP and APF are planning a joint webinar on PCP, how it operates, as well to hold a discussion on how to engage the diaspora.

---

On World NGO Day i.e., February 27th, PCP participated in Orange Tree Foundation (OTF)'s roundtable for a virtual session with Pakistan's thought leaders in the non-profit sector. Executive Director PCP talked about the (i) regulatory environment for NPOs in Pakistan; (ii) how to encourage small, medium & large philanthropic organizations to register/ work for greater impact; and (iii) importance of partnerships and collaborations. Recording of the session can be watched at: https://bit.ly/3cOQNaz

---

Early this year, PCP went for a joint webinar with HRD Network (HRDN) digging into how PCP's NPO Certification program works and what are the benefits featuring Executive Director PCP and CEO HRDN. Recording of the webinar can be watched at: https://bit.ly/3dtZ4zI