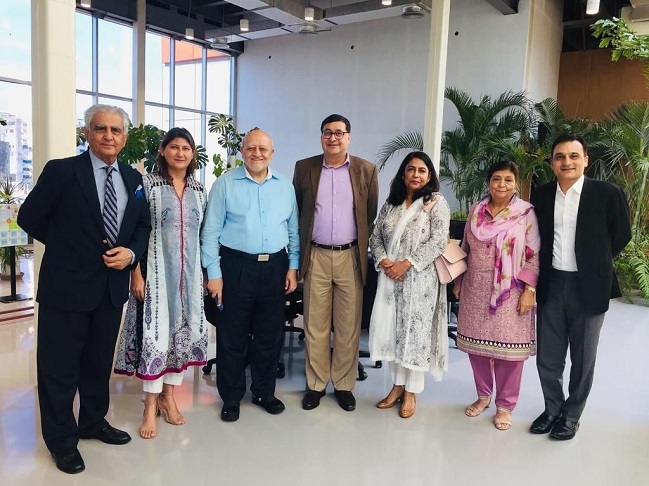 E Letter (Oct - Dec 2022)
---
NPO CERTIFICATION
Invest in Trust and Choose to be Trusted
NPO Certification Panels
PCP, the body approved by the Federal Board of Revenue (FBR) for the certification of nonprofit entities in Pakistan, has granted certification approval to as many as 95 organizations from October to December 2022.
Certification panels held during October - December 2022

Sr #

Date

No. of Cases Presented

No. of Cases Approved

1

October 06, 2022

20

15

2

October 25, 2022

20

17

3

November 24, 2022

20

18

4

November 30, 2022

20

15

5

December 22, 2022

20

17

6

December 29, 2022

15

13

Total

115

95
Beyond tax benefits, PCP Certification Stamp helps to bridge the information and credibility gap between grant-makers and grant recipients, builds NPOs' capacity to meet international standards of Governance, Transparency & Accountability and last but not the least, build a credible pool of nonprofits that are reliable and effective development partners.
---
Meetings with Corporate and Regional Tax Offices (C&RTOs)
PCP's Executive Director had meetings with the Additional Commissioner, Commissioner and Chief Commissioner at Corporate Tax Office (CTO) Karachi and with the Chief Commissioner Tax House Sialkot.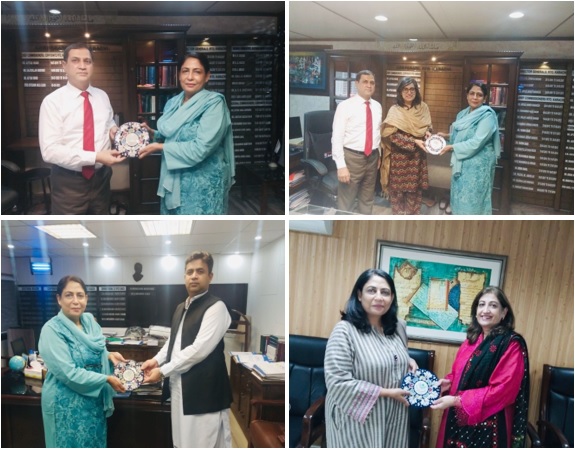 Since PCP is a designated Certification Agency by the Federal Board of Revenue (FBR), its management ensures to touch base with the CTOs and RTOs often to highlight tax-related matters regarding NPOs and to further add value to its NPO certification process.
---
Meeting with the Minister for Poverty Alleviation & Social Safety/ Chairperson of BISP
The Executive Director PCP met with the Federal Minister for Poverty Alleviation & Social Safety and Chairperson of Benazir Income Support Program (BISP), Ms. Shazia Atta Marri, and had an insightful discussion on the role of NPOs and BISP during the flood relief activities. Ms. Marri was presented with a souvenir afterwards.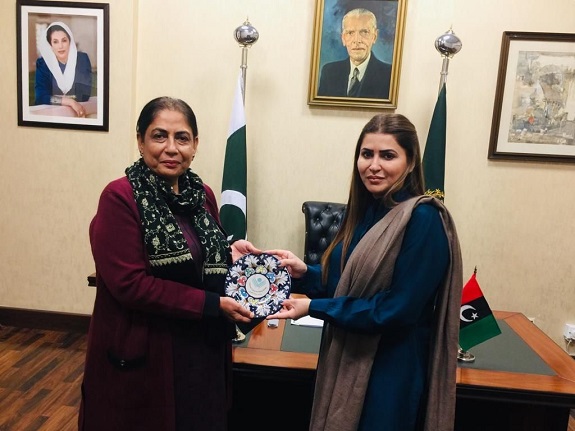 ---
Sector Research
Knowledge development to support your work in the charitable sector
A Session with Chairman AKD Group & Chairman Engro Corporation
For our decennial study, we have expanded our scope to include giving by HNIs of Pakistan. In this regards, Chairman PCP Board, Executive Director PCP along with Dr. Adil Najam had sessions with Chairman AKD Group & Chairman Engro Corporation to understand their motivations & preferences for charitable giving.

---
Focus Group Discussions (FGDs) with the Karachi based Youth and Minorities
PCP's research team along with their lead researcher, Dr. Adil Najam, had focused group discussions with the Karachi based Youth and Minorities as a part of an ongoing national study activity. The aim was to get a snapshot of their charitable giving to obtain a holistic picture of philanthropy in Pakistan.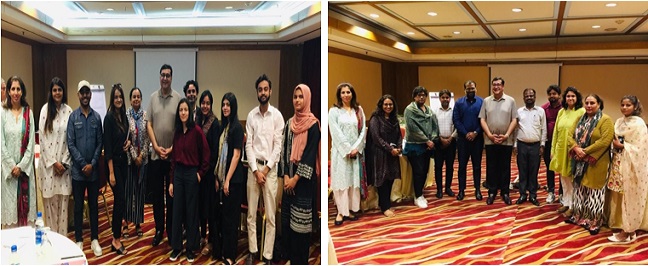 We appreciate students from School of Economics and Social Science (SESS), IBA, Karachi and young leaders/entrepreneurs who participated in the discussion and gave their valuable input.
---
A National Level Household Survey on Individual Philanthropy in Pakistan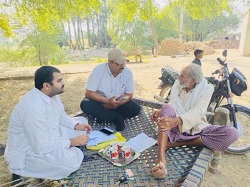 As part of the large-scale study on the state of philanthropy in Pakistan, the PCP Research Unit designed a nationally representative survey on individual giving in the country. So far, the survey team has collected responses on the giving pattern in over 60 Punjab, KP, and ICT districts from 5600 households using the CAPI-based CSPro application. PCP staff accompanied the enumerators to observe and monitor the data collection process to ensure minimization of any errors.
Next in line are the provinces of Sindh and Balochistan. The training of GB, AJK and Karachi's field teams has also been concluded and the surveys have been started in those regions

The survey will cover an estimated 12,000 HHs across four provinces as well as AJK and GB.
---
Launch of Doing Good Index 2022
PCP was represented by its Executive Director at the launch of Doing Good Index (DGI) 2022. PCP in collaboration with Sustainable Development Policy Institute (SDPI) partnered with Centre for Asian Philanthropy and Society (CAPS) to conduct research on the social sector concerns and issues in Pakistan.

Different stakeholders engaged in philanthropy and social work had an insightful discussion on the possibilities of public-private cooperation to address the loopholes identified in DGI 2022.
---
PHILANTHROPY SUPPORT SERVICES
Making partnerships and grant-making more efficient

PCP's 2022 Annual Report
PCP's 2022 Annual Report is out now! Learn more about our impact and achievements in building trust and promoting philanthropy in Pakistan at https://bit.ly/3iGusRS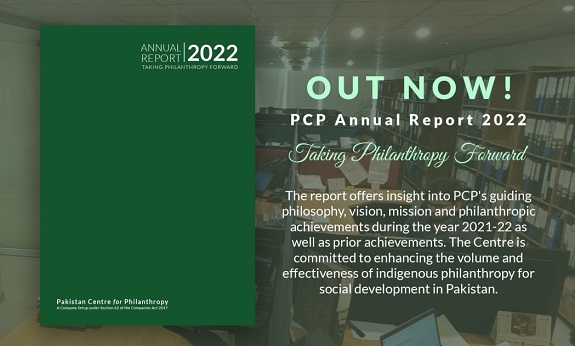 We hope to continue playing our role in promoting philanthropy in the coming year as well.
---
Training on Taxation and Regulatory Compliance for NPOs
Congratulations to all the participants of the Lahore batch of our training on taxation and regulatory compliance for NPOs.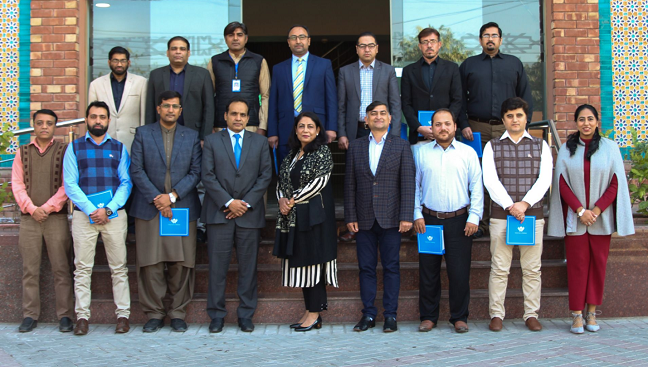 This training is an ongoing activity for this year, and our aim is to reach out to all the NPOs and facilitate them with the necessary knowledge on taxation and regulatory compliance. The next training batch is due to be held in Karachi.
---
Launch of GBC Jobs Portal
PCP and Aga Khan Rural Support Programme under EU-Pak Civil Society Project. The portal is intended to connect the job seekers and employers in GBC, thus improving the employment status of youth in the region.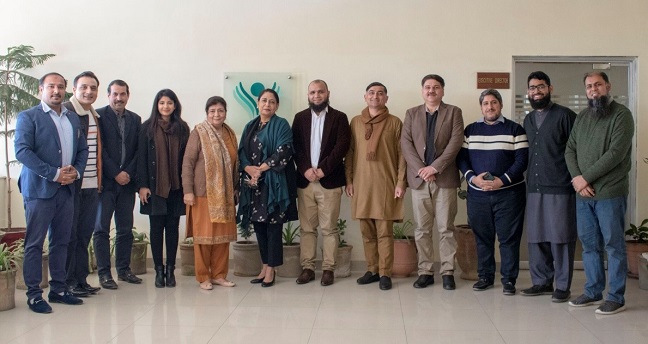 The portal is LIVE now, and job seekers and employers can get themselves registered on it at https://gbcjobs.pk/
---
PCP at Sustainable Development Conference 2022
PCP was represented by its Executive Director at the panel discussion on Adaptive Social Protection for the Future Disaster, organized by SDPI and GiZ. She emphasized the pertinent role of CSOs in Pakistan to adapt the social protection within the ambit of disaster risk reduction and management. She concluded by highlighting and acknowledging the prompt relief and rehabilitation actions undertaken by PCP certified CSOs during the pandemic and floods in Pakistan.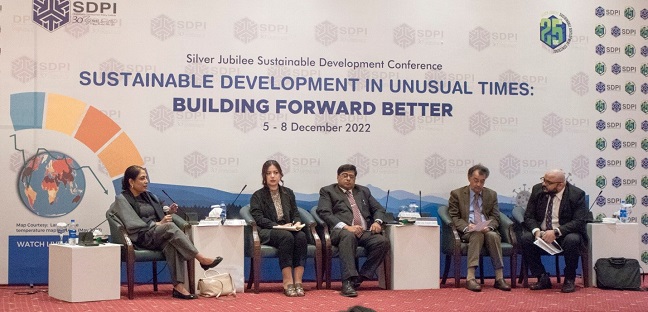 Also, it was an honor to be a panelist for the high level plenary on building resilience in crisis. While discussing the significance of institutional arrangements and partnerships, Executive Director PCP highlighted the role of local philanthropy and civil society and emphasized on the pressing need of a forum/ platform to coordinate all the relief activities by the Government and CSOs in order to avoid the duplication of efforts.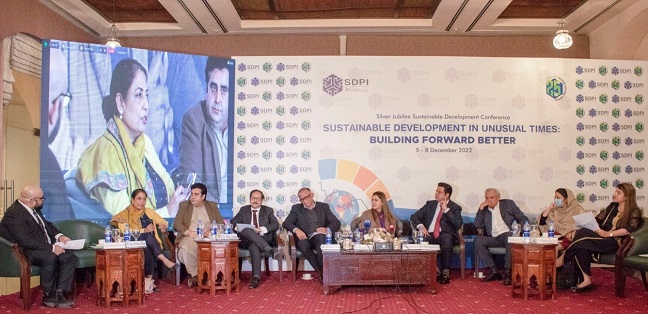 ---
PCP's Visit of Mianwali Education Trust (MET)
Executive Director PCP was invited to the Annual Day of Mianwali Education Trust (MET).

While speaking to the participants she appreciated their participation, and highlighted that PCP provides the much needed "Seal of Good Housekeeping" to organizations like MET by evaluating and certifying them.
---
Meeting with State Bank of Pakistan
Executive Director PCP had an insightful meeting with Dr. Inayat Hussain, Deputy Governor State Bank of Pakistan.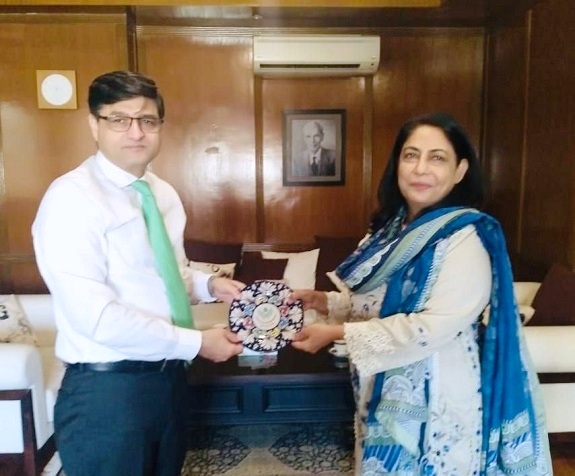 ---
PCP's Visit of Sundas Foundation
PCP was invited by Sundas Foundation (SF) to visit their facility in Islamabad where a number of thalassemia patients are under treatment. ED PCP met with these patients and distributed goody packs among them to enhearten them. It is an honor for PCP to confer accreditation to NPOs like SF that are working immensely towards the social good of the society, thus enhancing their credibility and reinforcing their good work.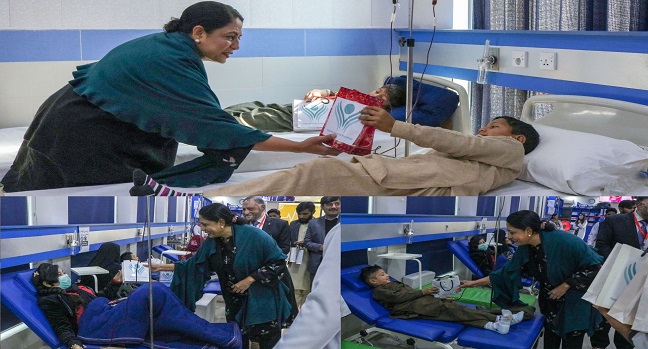 ---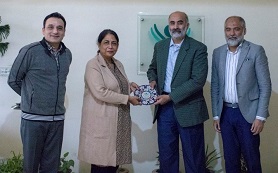 PPL's visit of PCP
It was a pleasure to host Mr. Kamran Sher, Chief Community Development, from Pakistan Petroleum Limited (PPL) at PCP office.

Executive Director PCP appreciated the proactive CSR by PPL and discussed potential ways of making this on ground philanthropic investment more sustainable and impactful.
the country.
---
Flood Relief Grants Facilitated by PCP
PCP, in collaboration with Give2Asia, is extending the below listed facilitations:
1) PepsiCo Foundation's grant of US$ 300,000 to Akhuwat will provide disaster relief in the form of emergency food rations to approximately 60,000 individuals impacted by the floods across Pakistan. This project will be completed by mid-January next year.

2) To support the relief and rehabilitation programs during floods in Pakistan, Give2Asia, where Hashoo Trust and IDSP are registered as Friends Fund partners, ran a campaign to collect funds for supporting flood affectees. In this regard, Hashoo and IDSP have been selected for Disaster Response Grants of US$ 30,000 and US$ 26,300.

3) Amazon EU's grant of US$ 10,000 to JDC Foundation. This is to support the relief and rehabilitation during floods in Pakistan.

4) Flex Foundation's grant of US$ 7,448 to Hashoo Foundation. This grant over the period of 6-months will be implemented in Hoper, a remote and least-developed village of Gilgit-Baltistan, affected by the 2022 flood in Pakistan. The objective is to improve the socio-economic condition of the flood affectees (women), the marginalized segment of the society in the mountain region.
---
SZABIST Students at the Diabetes Centre (TDC)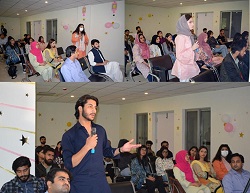 PCP along with SZABIST Islamabad, under their introductory course on philanthropy in Pakistan, organized the field visit of BS Social Sciences' students to The Diabetes Centre (TDC). These visits are an essential activity under the course that helps the students to get a practical hint of how the philanthropic sector actually works. We are pleased that the students took keen interest in the visit, and enthusiastically asked insightful questions to learn further. We also extend our gratitude to TDC for taking their time out, and facilitating this visit.
---
Pakistan Centre for Philanthropy
A Company set up under Section 42 of the Companies Act 2017
RDF Centre, G-9/1, Mauve Area, Islamabad.
Phone: 051-2286531